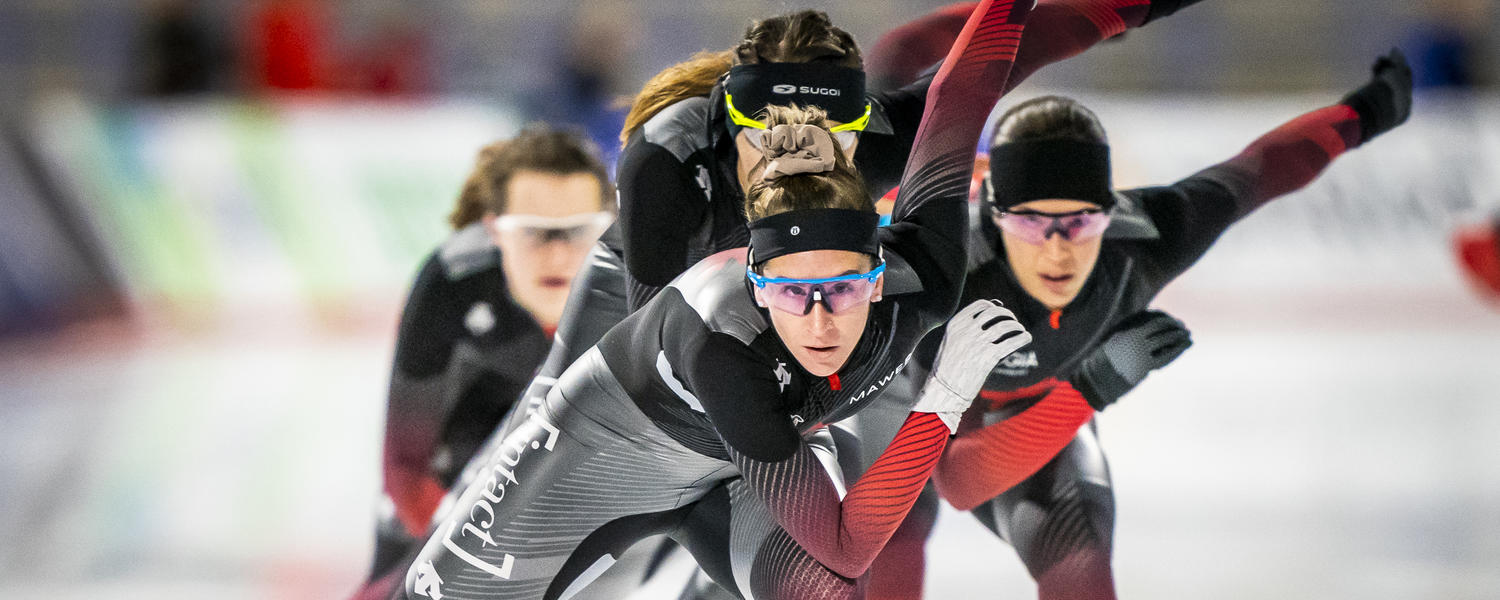 Come Skate With Us
The Olympic Oval at the University of Calgary is an incredible organization. Partner with us and take advantage of all The Fastest Ice in the World™ has to offer. 
The Olympic Oval is the premier Winter Olympic legacy facility from the 1988 Winter Olympic Games and part of the University of Calgary's Faculty of Kinesiology. The facility provides for several local, national, and international stakeholders and is home to high-performance athletes, world-class high-performance program areas, and excellent research. The Oval offers a dynamic environment for Faculty of Kinesiology programs, including Dinos Athletics, Active Living, and faculty courses and research initiatives. The Olympic Oval brings international recognition to the University of Calgary by hosting major world-class international events, Olympic athletes' training, and the ongoing development of high-performance programs. Additionally, the Olympic Oval contributes to and is recognized locally as a significant part of the Calgary community providing public skating, events and bookable space for various public user groups and entities.
Why Partner With Us
Partner with us and take advantage of all The Fastest Ice in the World has to offer.
More Information
Click on the accordions to see more information about the Olympic Oval including our programming.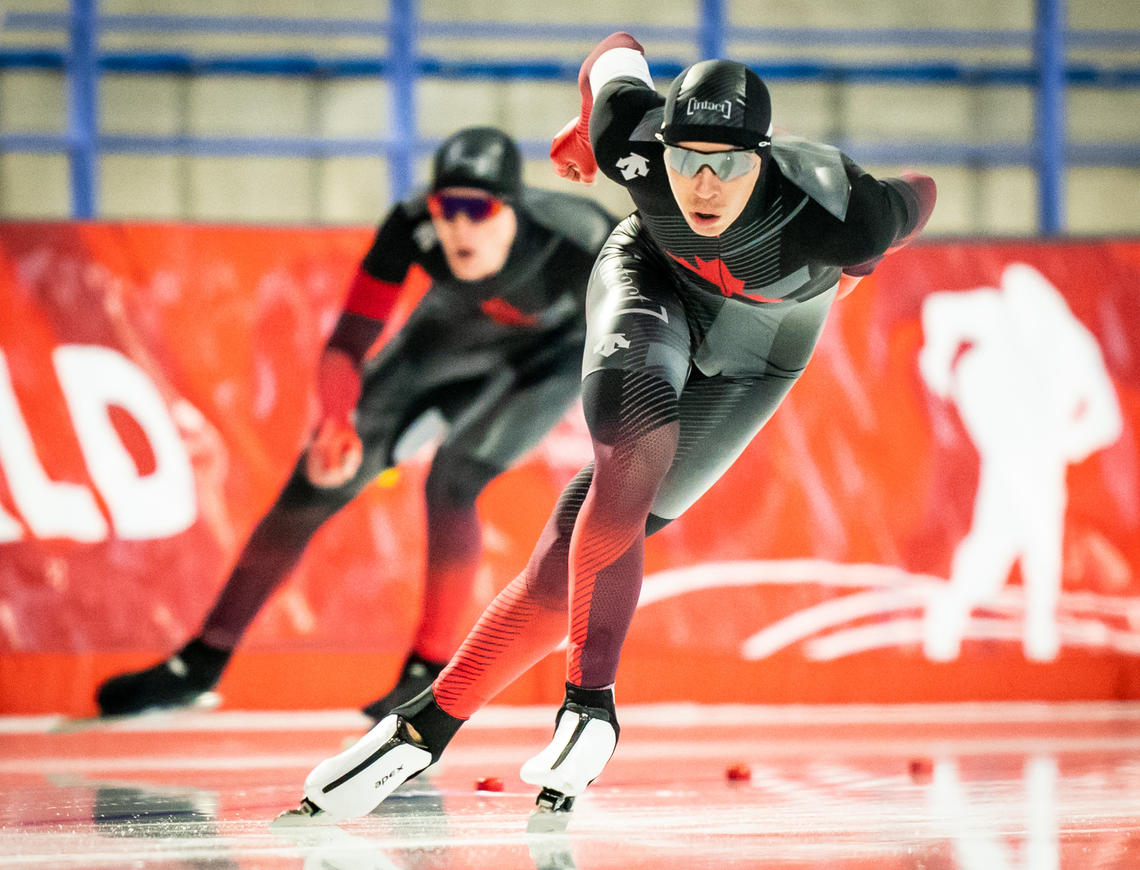 Fast Facts
The Olympic Oval is rich with history and an incredible Olympic legacy.
Demographics
The Olympic Oval has some very interesting user demographics.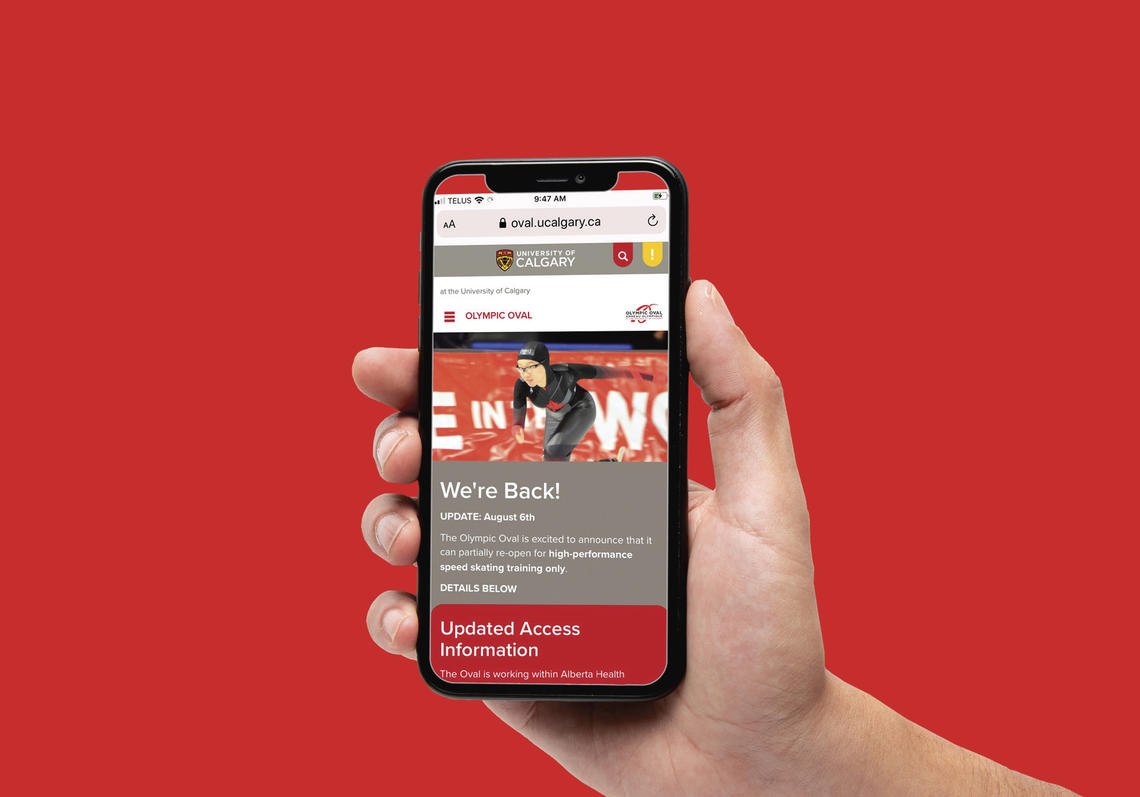 Team and/or Program Sponsorship
The Olympic Oval has provided high-performance coaching and training to long and short track speed skaters for nearly three decades. Speed skating programs were established shortly after the 1988 Winter Olympics when a need for high-level coaching – of both Canadian and international athletes – was identified. Since that time, the Olympic Oval's short and long track programs, known as the Olympic Oval Elite Athlete Pathway, have grown to more than 150 athletes and employ more than 10-speed skating coaches. Olympic Oval Elite Athlete Pathway program athletes range in performance from the provincial to national team levels. In this program, athletes have had tremendous success in setting world records, winning medals at Olympics, World Championships, World Cups, and qualifying for national teams.
Skin suits
Apparel
Athlete Welcome Package Gift Bag
- Branding
- Product placement sampling
Athlete on the Edge Video Series
76 Skaters in the program (Long Track)
30 Skaters in the program (Short Track)
61 Drop-in Athletes
25 Competitions per year
30 Competition locations
2500 Attendees in person
World Class Speed Skating Competitions
The Olympic Oval hosts speed skating competitions virtually every weekend from September through March. These events give skaters from across Canada and around the globe a chance to compete in a high-performance environment and achieve personal bests. These competitions also bring everyone together to foster a strong speed skating community in which athletes, officials, and volunteers build memories and share achievements. The Olympic Oval is known for being the Fastest Ice in the World™ and the home of many speed skating world records. All competitions are live-streamed and archived on the Olympic Oval YouTube channel for future viewing, extending our partners' reach.
A variety of opportunities exist for partners to get involved through our world-renowned competitions:
Athlete on the Edge Video Series
With the addition of a dedicated full-time video producer last season, the Olympic Oval significantly increased its video content, allowing for more and better storytelling of our facility, athletes, and partners. The Olympic Oval YouTube channel also experienced a 20% increase in subscribers, bringing the current total to more than 2,500. The Athlete on the Edge is a monthly video series that highlights Oval Elite Athlete Pathway skaters and their accomplishments. Six dedicated athletes, nominated by their peers, were selected to be featured in the 2019-20 series, garnering an impressive 6,203 cumulative views.
1,107 Views Oct. 10, 2019 | Brendan Yamada
1,815 Views Nov. 28, 2019 | Anders Johnson
1,817 Views Nov. 28, 2019 | Hee-Won Son
668 Views Jan. 29, 2020 | Abbey Young
512 Views Feb. 28, 2020 | Ashley Hannah
682 Views Mar. 18, 2020 | Wren Acorn
Anders Johnson
Oval Elite Pathway skater Anders Johnson
School of Speed
The SCHOOL OF SPEED is a community program designed to provide elementary and middle-school students with a unique field trip experience and introduce a broader audience to speed skating. With ongoing exposure to this lively and impressive sport, we hope to generate excitement outside of Olympic years where spectatorship tends to rise. We inspire youth to give speed skating a try, with the ultimate goal of increasing membership in the Calgary area – feeding the pipeline of the Olympic Oval Elite Athlete Pathway and the next generation of Olympians.
The SCHOOL OF SPEED program works with local schools and community organizations. It provides transportation to and from the Olympic Oval so students/ participants can watch a national or international speed skating competition.
Complimentary transportation to and from local school/contact point to the Olympic Oval
Complimentary tickets for all students/ participants and all accompanying supervisors
Value-added learning materials to engage students/participants in cheering for an assigned country
Event gift bags with souvenirs, prizes, and other promotional items
Exclusive naming rights to the "Your Company Name School of Speed"
Brand recognition on all program communication materials
Branding on and opportunity to provide all or some contents of gift bags
Web, social media, and in-venue promotion
1,500 - Average # of students in School of Speed
25 - The number of schools that have participated to date
12 - Average age of School of Speed participants
Public Skating / Indoor Running
The Oval's world-famous Fastest Ice in the World™ is open for public drop-in skating (September through March). Noon-hour offerings are primarily enjoyed by University of Calgary students, faculty, and staff. On evenings and weekends, members of the greater Calgary community – including couples and families enjoy the ice.
For the last several years, we have offered a Monday night "Toonie Skate" during our regular season. From 6 p.m. to 8 p.m., guests can skate for just $2. The Calgary community attends this popular offering sponsored by Servus Credit Union.
These premier community engagement opportunities are promoted widely through our channels and advertised regularly on Calgary radio. They also provide regular re-enforced co-branding throughout the entire season, with options to activate weekly.
Guests entering the Olympic Oval will pass by your stand-out branding, but so will the many people who enter our building to access the University of Calgary's Fitness Centre, Gymnastics Centre, and Dinos games, among other on-campus venues and events.
36,000 Public Skaters last season
Summer Camps
The Olympic Oval hosts two camps, Summer Speed and Masters Speed, as part of the University of Calgary's impressive summer camp offerings. Summer Speed is a week-long day camp geared towards club level speed skaters. It is an opportunity to develop their skills and challenge themselves to taste the Oval Elite Athlete Pathway training program. This camp, which offers sessions in both long and short track and dryland training, is led by current Pathway coaches and senior-level athletes, and young skaters come from all over Canada to participate. Participants experience actual high-performance training as the week caps off with a small competition. The Masters Speed camp runs concurrently to Summer Speed each year and offers masters-level skaters the same unique experience.
Title Sponsorship (Includes wide promotion to speed skating clubs across Canada)
Lunch Sponsor
Activity Sponsor
Seminar Sponsor
Gift Bag Sponsor
Opportunity to provide promotional items for inclusion in gift bag
Opportunity to host a promotional booth onsite during drop-off/pick-up
90 - Summer Speed 2019 Participants
00 - Age range of Summer Speed participants
17 - The number of Masters Speed participants
Community Events
As part of upholding the legacy of the 1988 Olympic Games, the Olympic Oval is a community hub for active living and a place for family memories.
ISU World Cup Speed Skating VIP Hosting
The Olympic Oval plays host to several competitions each year, including those at the international level. As part of every ISU World Cup and World Championship level event is a VIP guest lounge. This lounge is open for the entire competition and provides partners with an opportunity to invite clients, staff, or guests to watch the world's best speed skaters in a comfortable environment that facilitates conversation, connections, and shared encouragement for the Canadian speed skaters who call the Oval home. The guest lounge features refreshments and a host bar.
Packages can be customized to suit your business's needs and contain lounge passes and general admission tickets for the competition.
Corporate Bookings and Events
Between speed skating seasons – in April and May each year – the Olympic Oval's ice is removed, creating a massive unobstructed event space. With its clear span roof design and over 150,000 ft2 of event space, it is a premier indoor venue for a variety of events.
Oval Lounge and Boardroom
Designed and built for the 1988 Calgary Olympic Winter Games, the Olympic Oval has an alluring and spacious lounge and board room combination. Its original intent was a hosting space where Olympic and University of Calgary dignitaries could watch races while also mingling amongst themselves. This space remains its primary purpose during major international competitions that still occur annually at this Olympic legacy facility. In addition to these World Cup and World Championship level events, the Olympic Oval also hosts other thirty-plus competitions per year. Some at the national level, but several even at the international level.
Book your unique event experience with the Olympic Oval and take advantage of our beautiful space that allows your organization to gather privately while taking in a top-level sporting event. The event space boasts one 60" and two 32" LCD televisions with HDMI adapters for use with any computer, built-in countertops, fridges for foodservice use, and abundant windows with views to both the outdoors and the ice.
If you would prefer to try speed skating instead of watching it, you can also book our lounge or board room during a weeknight public skating session. Corporate skating event packages include room rental and skating admission and skate and helmet rental for all attendees to enjoy The Fastest Ice in the World™.
Are you looking to add additional value to your event program? Book an athlete to speak at your event! Our Oval Elite Athlete Pathway athletes are fabulous speakers and love to share their stories. Inspire your staff, clients, or guests with a motivational talk or panel discussion with our elite level speed skaters.
Lounge Capacity - 150 standing, 65 seated
Board Room Capacity - 150 standing 65 seated
Ice Capacity - 3,300
Print and Digital Media
Zamboni wrap
Entrance lobby pillar wrap
Rink banners
Retractable banners​​​​​​
Visiting Team Welcome Kit
Drop-In Training Brochure
Public Skating Schedules
Competition Calendar/Schedule
Skating Passes
Custom co-branded promotional materials
Video boards Include more information on these if possible
Static slide played during sponsor loop
Animated slide played during sponsor loop
Video with audio played during sponsor loop
Digital Screens
Guest Relations Desk in high -traffic public lobby
Main hallway – above stairwell Olympic Oval Lounge (6 screens)
Skate Shop
Stretching Area
Website
Logo included on sponsor page with link to your website
Dedicated sponsor page with customized promotional offer
Video Replay – Training
Short Track Training Channel
Long Track Training Channel
Steps
We would be pleased to create a custom-tailored partnership package designed to meet your organization's marketing needs and budget.
Contact David Vink
Marketing & Corporate Events Specialist
david.vink@ucalgary.ca
Office (403) 220-5190
Cell (403) 909-0929
The Oval is a fantastic place for many of my clients. With the rooms, spaces, balconies and a massive ice skating surface, it checks off the boxes for so many of my clients. I keep coming back.
Lesley Plumley
Owner and Lead Designer, LP Events